Rights of Children TV Series, Mali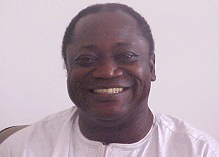 Jean Jacques Yem of Mali, a partner of the Institute for Excellence in Africa, has considerable experience writing, producing and directing TV series in West Africa. Since 2015 he has written a TV series in French to promote the rights of children, especially to have Consciousness-Based Education. He does this through simple plays and everyday situations directed at parents.
Currently Jean Jacques is raising funds to produce the pilot episode with which he can interest large institutions like UNICEF in financing the whole series.
The series already scheduled to be played by a prominent TV station in Mali after which it will be available throughout Francophone Africa.
An internet fundraising has been established at: https://www.gofundme.com/for-the-rights-of-children-mali and has raised over $2,500 to date.
SaveSave
SaveSave