Cameroon Student Named Outstanding by ISCPA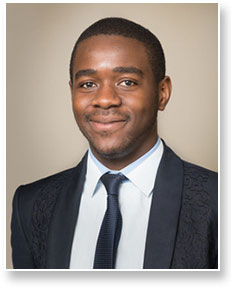 Merveille Djappi Tiani–One of Iowa's Outstanding Accounting Students
MBA student Merveille Djappi Tiani recently was named Most Outstanding Accounting Student at MUM by the Iowa Society of Certified Public Accountants. The MUM accounting faculty nominated him for the award based on his academic performance, professional behavior, and his ability to collaborate with others.
Merveille grew up in a small rural town in Cameroon and has always dreamed of achieving something big. In middle school he excelled in math and decided to become an accountant. Even though his parents wanted him to become a physician, he convinced them that he could be just as successful pursuing his dream.
He earned a bachelor's degree in accounting and began working at a CPA firm. At the same time, he wanted to further his education, so he applied to the Association of Chartered Certified Accountants, a global organization of professional accountants based in the United Kingdom. After years of studying and passing exams, he recently became a member.
When he heard about MUM from an alumnus, he decided to take the next step in his education and enrolled in the MBA in SAP accounting program. Merveille was pleasantly surprised by the receptive atmosphere on campus. "People are so friendly; it's like family," he said. "I feel like home. I am sure I am going to miss the environment." He has also found the practice of the Transcendental Meditation® technique beneficial. "TM helps you become calmer and be stress-free. It helps you to be you."
Along with his classmates, Merveille participated in the Capstone online business simulation for graduate students, and his team finished in the top one percent. He recently completed his eight months of full-time study on campus and is currently looking for a fully-paid practical training internship in the Washington, D.C. area. At the same time, he is studying for the U.S. CPA exam and taking online classes in programming with the ultimate goal of becoming a financial analyst.
"Merveille is one of the very best students who has ever participated in the MBA program." said Dr. Andrew Bargerstock, chair of the Department of Accounting, "He possesses a rare blend of exceptionally well-developed technical skills, an extraordinary passion for work in accounting and finance, a high level of commitment to achieve professional success, and a consistently pleasant style of interacting with people. I eagerly await how the next 5-10 years unfold for him."
SaveSave
SaveSave
SaveSave
SaveSave
SaveSave
SaveSave